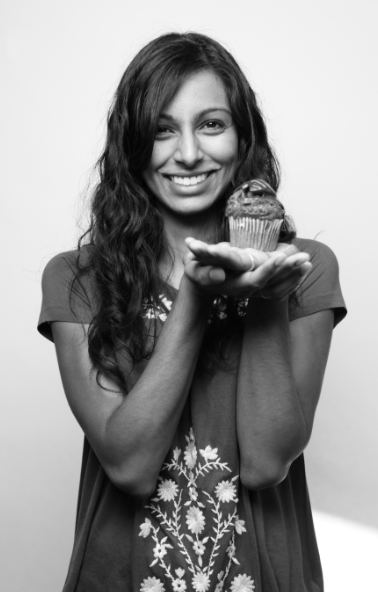 Friends of Q: May
Meet May. Q's Former Coordinating Producer.
Passionate traveler.  Eternal sweet tooth. In fact her love for travelling inspired her to pack up her life and move all the way to Spain. Now we drool over her stunning beach pictures.
Favourite children's book:  James and the Giant Peach and The Secret Garden were in regular rotation during my childhood (and, admittedly, into adulthood)
Favourite expression: "Whenever you're thinking no, think yes." (sage advice from Stewart MacLean, June 2012)
Website you visit the most: YouTube – perfect to waste time watching silly videos videos or have music on in the background
A free day is spent: Meeting up with friends OR watching movies while smashing popcorn and Pepsi
Biggest pet peeve: Noisy, open-mouthed eaters (crunching, smacking, slurping…*shudder*)
A dinner party with any three people, dead or alive – who's at the table?  So many choices here but I would love to sit down with the three grandparents who passed away before I got the chance to meet them.
Dream project:  A travel documentary, maybe one that explores ancient temples around the world.
Something quirky about yourself? I love tea (LOVE it) and drink three to four cups a day – but I'm a purist, some might even say a snob.  This business of rose petals and cheesecake and chocolate flavours – that is not tea.  Give me a proper cup of loose leaf Sri Lankan tea, brewed just right, with the milk warmed up before it gets mixed in so the tea stays piping hot… and I'm in heaven.
What did you want to grow up to be?  I can remember saying that I wanted to become a hairdresser and a veterinarian.  The vet I understand because I loved animals, and still do.  The hairdressing makes less sense… I barely put effort into my own hair, never mind other peoples'.  There's also the lost dream of becoming a Cirque du Soleil performer.
Favourite story to tell: A few years back, on a trip to the Greek Islands, my girlfriends and I had an encounter with a fun bunch of Italians.  The story includes a broken flip flop, a 6am secret swim in an infinity pool, crepes served by a jovial Albanian, smashing plates (opa!), a long walk from a deserted pier, LOTS of dancing, broken English, two sets of goodbyes, a Greek ophthalmologist-bartender, chucking Coke cans at smokers and night time island-hopping.  It's one of my favourite memories from what was an extraordinary experience exploring Greece.  Come find me, I'm happy to share a bottle of Ouzo and re-live every minute =o)
If you could be a character in a movie – who would it be? I can't resist the idea of having a super power – to control things with my mind or to be able to fly or have super strength.  It would be so cool to be a mutant in the Marvel Universe (I always played Psyloche to my brother's Wolverine when we were kids.)  Another cool role – a character on the X-Files.  I don't think I ever actually wanted to be Scully (or Mulder, for that matter) but just someone in their world – maybe the shy-but-brilliant intern assigned to their team at the Bureau.  Not that I've spent time thinking about this or anything.
What's your Q connection?  I actually don't have a Q connection – I got this job the old fashioned way, responding to a posting on mandy.com.  They were looking for a production assistant for Season 2 of Getinvolved! and I tossed my resume into the ring.  A phone interview with Graeme, two in-person interviews with the team and one final phone interview with Dorothy – and I was hired!
What do you like most about working at Q?  There are so many reasons to love this place but, hands down – it's all about the people.  We truly are a family here – we're constantly learning from one another, we laugh together, we have each others' backs, we push each other to reach higher and we share our passions.  I have great coworkers here and I'm always excited to collaborate with each of them – but what's even cooler is that I've been lucky enough to have also made some great friends.
Most memorable Q project:  The Direct Energy We Are One project took us on the road for three weeks in 6 US cities. I was with an awesome team (Allan Myers, James Judges, Stew and Steve) and our schedule was really intense but we met some really great people and got to shoot in cool locations like the Vegas strip and the Colorado mountains.  I was field producing on this project and it was crazy and fun and stressful and thrilling – and a great learning experience too.
What makes you happy? Many many things are happy-inducing – being silly with friends, sunshine, cupcakes, an engrossing book, a great song, coffee with a friend, travel to foreign countries, family gatherings, the beach, a great cup of tea, learning languages, people [safely] bailing, kittens, acrobats in Cirque du Soleil, exploring a new city, and it goes on.  But I actually think there's nothing better than seeing the people you care about, family and friends, find success and joy in life.
Visit Meet the Q Family to get to know other members of the team.