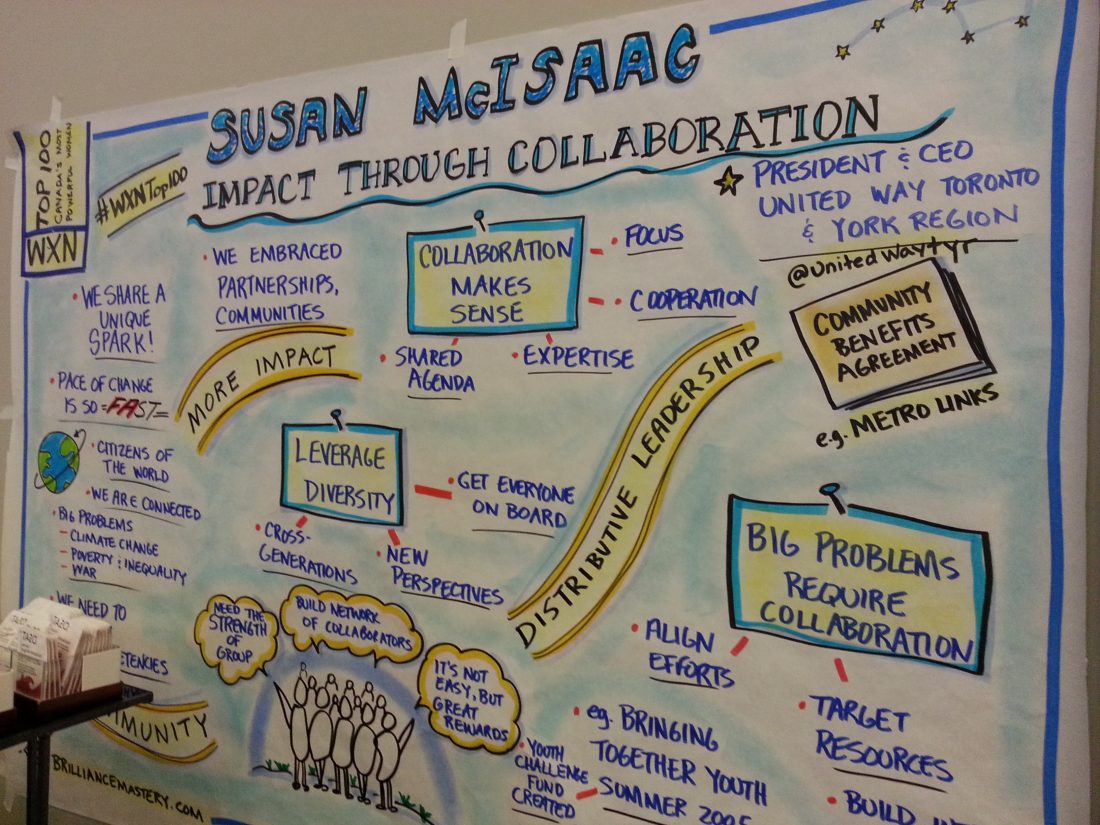 Get Inspired: Highlights from the WXN Summit
Last month at the WXN awards, I had the opportunity to stand onstage, with 99 amazingly powerful, strong, smart and insightful women, while 1300 guests applauded and cheered. Not your typical Thursday evening.
Dorothy and one of our terrific clients, Rachel Pryce from the Globe and Mail, nominated me for a WXN Top 100 Most Powerful Women in Canada award. The awards evening was magical for me (Mayor John Tory and Dr. Samantha Nutt both delivered powerful and heartfelt speeches) and I got to raise a glass in celebration with my Q team, my client, my parents and my partner all at the same table.
To kick off their annual awards dinner, WXN hosts an all day summit on women and leadership. The day was filled with inspirational speakers and even though the evening was an huge honor, it was many of the moments from the summit that will stick with me the most.
Here are my highlights:
Susan McIsaac from United Way Toronto and York Region
The summit's theme was "Collective Impact" – the idea that we are stronger together, that the sum is greater than our individual contribution. Susan's keynote focused on collaboration and how you can encourage a collaborative environment in your organization.
"Collaboration means you can come up with a solution you never would on your own."
Susan focused on a 2005 United Way case study, notoriously known as "the Summer of the Gun" in the GTA. There was a huge influx of violence and youth displacement. At-risk youth were not getting access to the prevention programs United Way had in place. So how do you get at risk teens to attend your programs? Well, you don't. For those of you with teenagers you know you can't force a young person to do anything. The solution? A collaborative approach. The United Way worked with youth to redesign their programs and they took a step back, leading from behind and letting the youth become their own program ambassadors. The magic of collaboration is that it ensures buy-in from your collaborators.
"Collaboration is not easy, but you can't do things alone."
So what were Susan's three tips for fostering collaboration in your business or organization?
Commit and get started. Jump in with both feet and know that it's okay if you have a few stumbles along the way. But you're never going to start collaborating until you fully commit.
Build a network of people. And this network shouldn't be friends, colleagues or supporters – it should be a network of people who disagree with you. People who see flaws in your organization. Those are the people who will help you make real change.
Accept that it's not going to be easy.
Summit Panel
"There is a risk, but the reward will be greater."
This panel was particularly strong because it featured three women with very different viewpoints: Sabrina Geremia, Google Canada and Colonel Josée Robidoux and Sarah Saska, Founder of Feminuity. Although I couldn't take notes as rapidly as these amazing women could divulge insights, here are my favorite sound bites:
"Gender bias is everyone's issue, not just a women's issue." – Sarah Saska
Gender bias needs to be at the forefront because "we can't change what we don't see." – Sarah Saska
"Women in the military is a quiet revolt. It is being recommended that women can do the job. So don't discard them." – Colonel Josée Robidoux
"In WWII, [as men were the majority of those that served] we needed women to step up . Women like my grandmother who then influenced my grandfather." – Colonel Josée Robidoux
"There's two things we need to stop doing: the idea of "fixing" women or that we need to "help" women AND stop calling women "diversity". We are 60%." – Sarah Saska

Many innovations from the past are not attributed to their female creators because historically they were unable to apply for patents. "We need to retrace the history of women in innovation and celebrate them now." – Sarah Saska
"Don't be afraid to fail. That's where creativity and learning comes from." – Dr. Lorna Wright (moderator)
On collaboration: "Use your network and accept that means you need to help those in your network as well." – Colonel Josée Robidoux
"Be 'uncomfortably excited'. That's the place where you have opportunities to learn, push and do different things. That discomfort is fertile. So be curious." – Sabrina Geremia
"I didn't get this job because I woman, I got it because I'm good at it." – Colonel Josée Robidoux
"Be truly yourself at work." – Sabrina Geremia 
Allison Grafton from Rockwood Custom Homes
Allison's passion and attitude set alight a spark throughout the room. She focused predominately on tips of how women and men can work together to support one another and how to lead as a woman.
"Lead as a person, not a woman."
 "Respect is the currency of leadership. You're not on a battlefield, [women and men should] lead the charge together."
Allison is a ball of energy that came through during her entire keynote. And that was the key to her message, be authentic, be yourself at work. Find your niche, your talents and ROCK that. Just because you're a woman doesn't mean you need to be better than everyone else at everything. Because you won't. Find your passion, your skillset and hone that. If you speak with clarity and transparency and share openly and honestly, your entire team will respect you (men included).
"As a leader you're never alone at the top. You're in the trenches with your people."
Allison spoke a lot about team empowerment. And as I nodded along, I realized that is one thing we pride ourselves here at Q Media. Dorothy and Richard empower the Q team by celebrating individual successes (my award nomination for one) and inspire us to innovate and problem solve every day.
"Motivating your team to innovate and collaborate. It will spark everyone on the team."
So think about how you could build your collaboration skills and empower your team.
How can you become "uncomfortably excited" or make better use of your network?