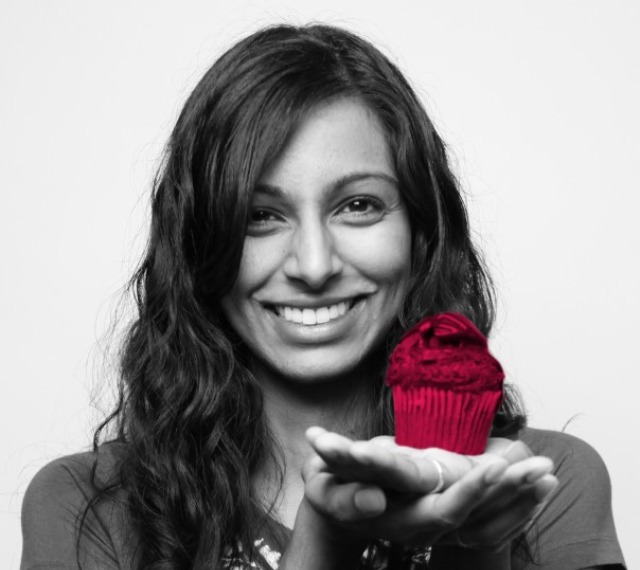 Goodbye & Good Luck Miss MEY!
We don't call ourselves the Q Media Family to be cute.
We are a tight knit group of people who work side by side everyday. Everyone who works here and who has worked with us in the past are knitted together by common values. We care about each other, our work and our clients.  We all take pride in our work and are always looking to learn, do better and find a way to help each other at work and at play.
While everyone of us brings our unique family qualities to work each day– me the Mom, Caitie the cheerleader, Graeme the spark, Steve the rock, Stew the yes man, Richard for comic relief, Josh the whiz kid, Steven the still waters run deep, Rudayna the tease, Matt the sweetie, Allison the new gal–  Menaka is the icing on top of the Q family.
We can't easily describe what it will feel to come to work each day without her brilliant smile and commitment to dotting all the 'i's" and crossing all the "t's. But we can say it won't be the same without her.
Here's what her family has to say about her…..
Caitie Drewery
Mey is a lot of things to me. My mentor, my therapist, my guru, my fat head and my best friend. I'm so excited for her journey ahead and the nights I will spend on Skype hearing about all of her adventures. The distance makes no difference – it just means I have a new place to stay in Spain! Love you forever – Chunk Chunk.
Steve Lang
Mey is elegant stability, always there to help. Who else can correct your grammar in English, French, and Spanish? 
Richard Quinlan
Mey is one of those special people you meet in life. She's intuitive, with an ability to sense what people were really asking for. Organized, she's the one who remembers everyone's birthday and she's deeply caring. She's also kind of cool. I felt that from Day One, although that's counter-balanced by a goofy side. I'm holding her responsible for the periodic elastic bands that fly through the air at the office.
I've always thought of Mey as more of a friend than co-worker, and so while the practical part of me is disappointed that she's leaving, I'm also thrilled for her and proud that she's taking on a new adventure. Who hasn't wanted to live in Europe for a year and learn a new language? Lots of us talk about doing that, but few do. 
So I'm cheering her on from the sidelines.
Graeme Mathieson
Beyond a great friend, a wonderful supporter and collaborator, a teammate and colleague, a part of Q will be missed more then you know. Days just won't be quite the same without Mey's presence. I can only wish you the best and I know success will continue in leaps and bounds on your new journey. Don't forget us. Granada, take care of our Mey.
Steven Field
If I categorized myself as one of the hands of Q Media, Mey would be the brain, eyes, ears, voice, and conscious. If I was into bad puns (I am), I would call us Q Meydia (HA!). And though I wish her luck this coming year in Spain, I feel like we will need it more back home trying to survive without her. 
Josh Kaplan
Although I do not know you as well and as long as others, it has truly been a blast and a joy. I apologize for any grammar and spelling mistakes in advance. It was a pleasure to work with you and your infectious laugh. I am going to miss turning around twice a day to the noise of something falling or a cup spilling all over your desk. Have the best time with your future plans and can't wait to see and hear about all the craziness you get up to. 
Stewart MacLean
Mey is a super smart, super talented person, who is awesome to work with and she makes an even better friend. 
Matt Donkner
Mey helped me to break out of my shell when I started at q. Her energy and sense of humour was infectious and I loved being apart of any project she was involved in, even the XXXX ones. I'll miss the encouragement, laughter, and elastic band flinging she was always so eager to provide.
Rudayna Bahubeshi
Menaka, I will miss your sass, sense of humour, and watching your talent in action. But most of all, I will miss your commiserating–who else is going to understand my weird name problems?? Bon voyage, dear friend! Wow the world with your grace, smarts, and outrageously multilingual self.
Jonathan Linds
I only worked with Mey for a few months, but during that time I had the good fortune to work closely with her on several projects. Even in that short time I was struck by her intelligence, her acerbic wit, and her unwaveringly cool demeanour that just wouldn't crack–even under the most stressful of circumstances. I don't need to wish Mey luck, because I have no doubt that she will succeed handily at whatever she tries.
Allison Walsh
I consider myself extremely lucky to have had the chance to learn from one of the very best producers there ever was. A big thank to you, Menaka for all of the love and support you've showed me during the past year here at Q.  Best of luck on your next adventure!
Shawn Dell
Since my first day with the Q family, Mey has always made me feel welcome through her warmth, humour, compassion, and ice cold hands. I wish you all the best in this exciting new chapter of your life, Mey. You will be missed! (Except for that hand thing.)
Eleanor Engelman
Menaka is Miss Fix-it with a smile!
PLEASE Join the conversation by adding your best wishes to our comments section of the blog so Menaka can have a proper send off….
(The Spaniards will be lucky to have her.)