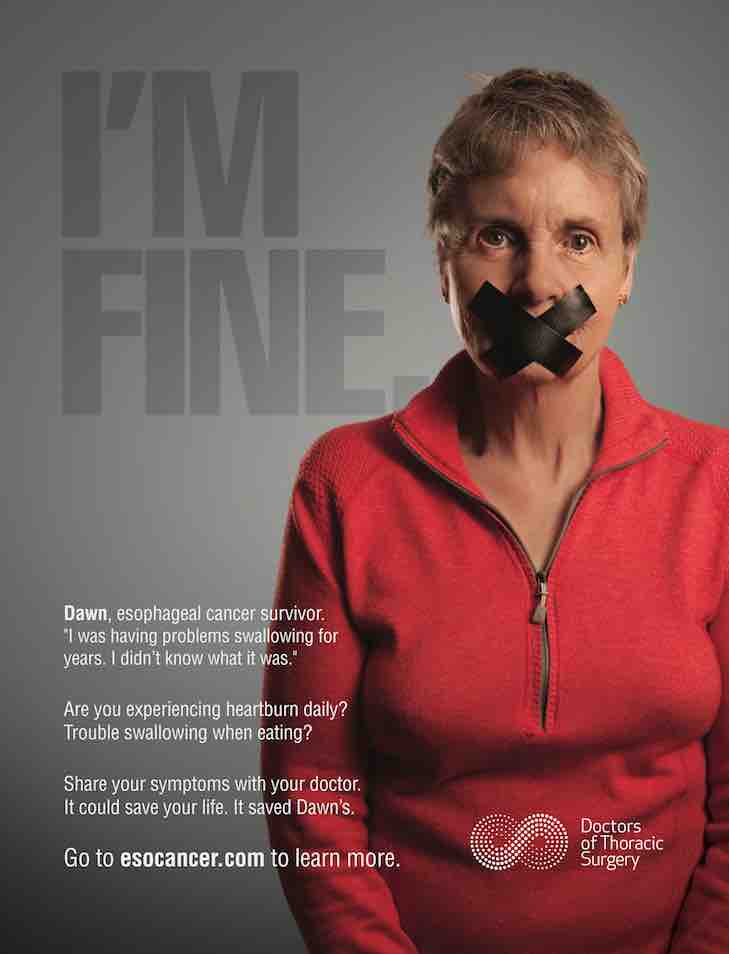 "I'm Fine" Could be one of the Deadliest Things you Say
We hope our newest awareness campaign sends people straight to their doctors' offices.
For the month of April, which is esophageal cancer awareness month, we have partnered with surgeon Dr. Darling and her team at Doctors of Thoracic Surgery (DOTS) to get esophageal cancer on Canadians' radars and encourage folks to share esophageal cancer symptoms with their doctors.
Esophageal cancer is one of the most deadliest of cancers and is becoming the increasingly most diagnosed cancer in the Western world (with diagnosis rates rising by 600% in the last 35 years). Our biggest hurdle was that many of the symptoms (like heartburn and trouble swallowing), are often considered minor by the general public and remedied by over the counter medications. BUT those symptoms are actually warning signs for esophageal cancer which is aggressive and deadly.
The good news? When diagnosed early (stage one) cure rates are 80-90%.
We wanted to reach as many people as possible, so we created a variety of assets for the "I'm Fine" awareness campaign. It is spearheaded with real cancer patients' stories supported by facts and a campaign-specific landing page, supported with print, social advertising and radio.
The social advertising campaign has already received some great numbers, with the main video garnering over 30,000 views in just two weeks.
Find out more at esocancer.com.