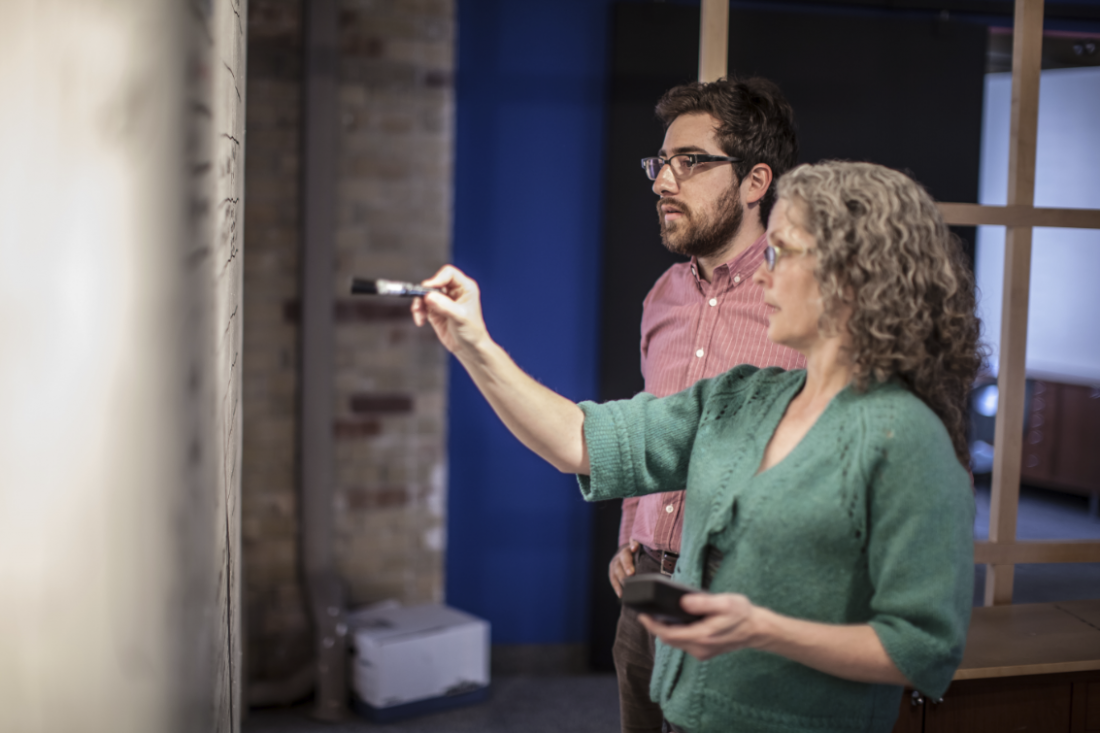 Job Shadowing at Q
A post from guest blogger Jonathan Linds – a student from the Centennial College Interactive Media Management program who just finished a four-week job shadow at Q.
The motto of Q Media Solutions is "we tell stories," so it's only fair that I try to cobble together a few words about my experience job-shadowing with the agency.
I was first attracted to Q by their dazzling portfolio of video work. Q has crafted a lot of videos for impressive brands, but it was their work on behalf of charities that really caught my attention. So it was kismet that I started job-shadowing just as Q was getting ready to re-launch Getinvolved.ca, the in-house non-profit and their passion-project. Getinvolved is Canada's largest online volunteer network, matching volunteers with charitable organizations.
My mentor at Q was Christine McGlade, Q's interactive guru, who helms all of the agency's online projects. It was Christine's job to give Getinvolved a makeover, giving the site a cleaner look and more intuitive user experience. It was a big undertaking, especially considering she had a hard deadline for the relaunch: this year's National Volunteer Week, which by the time I started, was just around the corner.
It took a lot of fine-tuning to get the site working just right. I sat in on a few weekly meetings with the site's developers as Christine and Rudayna Bahubeshi, Getinvolved's Community Manager, went over problems and bug fixes. It was a very enlightening, if occasionally frustrating, experience. Anyone who has designed a website is probably familiar with the hydra effect, where you fix one problem only to have several more pop up in its place.
Christine and Rudayna were working extremely hard right up to the finish. Through a truly staggering amount effort, planning, hoping, and more planning, they were able to get the site up and running in time.

It wasn't too long before I was getting involved, too (sorry, terrible pun). Rudayna had me go through episodes of the inspiring Getinvolved web-series, searching for some good pull-quotes for a new promo video. Going through that footage gave me the opportunity to learn the Q storytelling method.

My first lesson: use real people. Q's senior partner Dorothy Engelman explained to me that given the choice between using actors and real people, she opts for real people every time. This goes for Q's promotional work as well. Watching the real-life volunteers interviewed for the GetInvolved series, you can see why; their passion for what they do just pours off the screen, making for a great piece of video. Far simpler and more effective than if they were just reading a script.
Q's office is constantly humming with activity. Everyone is everyone is expected to pitch in as producers, writers, coordinators and even as on-camera talent. I figured that the best way to leave an impression was to roll up my sleeves and show what I can do. During my time at Q, I also got a chance to contribute some writing to the Getinvolved blog, and helped add new opportunities to the site's content management system.
On the interactive side, I got to accompany Christine to a client meeting at University Health Network. The meeting was very small-scale: just me, Christine, and the client, a researcher who has contracted Q Media to create a website that promotes back-safety for health care workers.
I really enjoyed watching Christine, a television producer by training, start to break down the site's essential story points. There is a lot of important information that needs to be communicated, but it has to be done in a way that's engaging and intuitive or the message gets lost. It's a difficult challenge, and I relished the opportunity to see a project getting built from the ground up. Christine showed me the value of empathy in web-design: the importance of listening to a client's needs and translating that into a product that's attractive and accessible to a wide audience.
My time at Q went by very quickly— maybe because everyone there works at such a rapid-fire pace. When I first walked in I was amazed at the sheer number of projects the team is able to expertly juggle at once. After spending some time with the people at Q, I know that they are more than up to the task. That office just courses with talent and passion and I'm walking away from my experience energized, inspired, and ready to take the next step in my career.