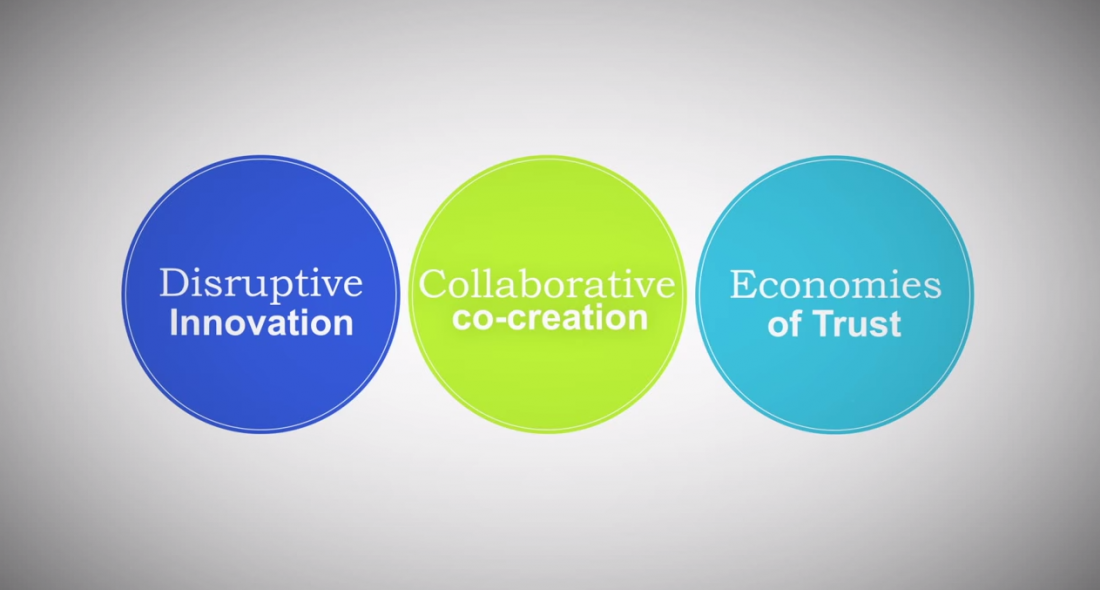 Pull #5: How Technology is Changing the Business Conversation
The following content is from Pull, an online series about how technology is transforming the conversation.
Pull was produced in partnership with TVO's The Agenda. Originally published in Summer 2013.
Business, Creative Destruction and Constructive Innovation
According to author Don Tapscott one the biggest trends affecting business is the emergence of new disruptive models. Some pundits call it creative destruction or constructive innovation. Call it what you will. There can be no doubt that the meteoric rise of social sharing and participation is changing the way we connect and do business; from publishing at Pinterest and Tumblr, to financing at Kickstarter and Kiva, to music and travel at Radio Tunaand AirBnB.
Kerry Bodine, vice president and analyst at Forrester Research, says it's changing the relationship between business and their customers. And businesses need to listen and engage their customers when they are developing products and services. And Peter Kim of the Dachis Group believes listening to both external and internal customers is ultimately what drives innovation.
We spoke to three entrepreneurs who are using technology to collaborate with established businesses in different sectors: Are you Watching This?! is working in the media sector,45Sound in the music business, and Pear in sponsorship for community-based projects. They all see their new models as examples of constructive innovation rather than creative destruction. Here's a look at how they're changing the business conversation.
Music Fans and Their Bands: A New Creative Partnership
No industry has been more disrupted by social media than the music industry, particularly by Napster. In that sense, 45sound is a bit of an anomaly. They're helping record labels take advantage of fan-generated content to market their artists. The brain child of Cathal Furey, fan-shot video of concerts and performances are uploaded to 45sound, where its proprietary technology seamlessly replaces the fan's low-quality audio with the band's live high-quality audio. The result: a fan-generated, multi-camera music video!
A Digital Tap on the Shoulder
Where 45sound brings together fans and bands to create new value, Mark Phillip wants to bring new value to sports fans and broadcasters. His intention — make sure you never miss that winning goal, big comeback, or final lap of your favourite race ever again. Are you Watching This?! features an algorithm that can identify when a sports event is about to get exciting, and then lets you know you should turn on your TV immediately. Instead of developing a stand-alone app, Phillip is taking a constructive innovation approach by partnering with some of the biggest sports broadcasters in the industry.
The Sporting News and Sports Stream are licensing his technology to create new value for their audience and new revenue streams for everyone.
Tweet for Team Jerseys
Jared Golden is collaborating with big brands in a new way that gives small community organizations access to big-brand sponsorships. Big brands get authentic, grassroots, and trackable social media activity in what Golden describes as a "Kickstarter for sponsorship." On his website, Pear, community organizations support brands like Gatorade by liking, posting, and tweeting about them — gaining in-kind sponsorship donations along the way. Golden is disrupting the traditional ad agency business by rewarding hundreds of small community organizations when they spread the word, rather than using big media giants for advertising. It's a win for small organizations who get everything from team jerseys to gift cards, and the brands, who get authentic community-based word of mouth. The bottom line: it's giving grassroots organizations a chance to compete for sponsorships that used to be reserved for the big leagues.
These are business models that disrupt, but they're also collaborative. Creative destruction and constructive innovation: two more ways that technology and social sharing are pulling consumers and businesses together to create new models.
Tell us where you think business is going.  Join the conversation on Pull.