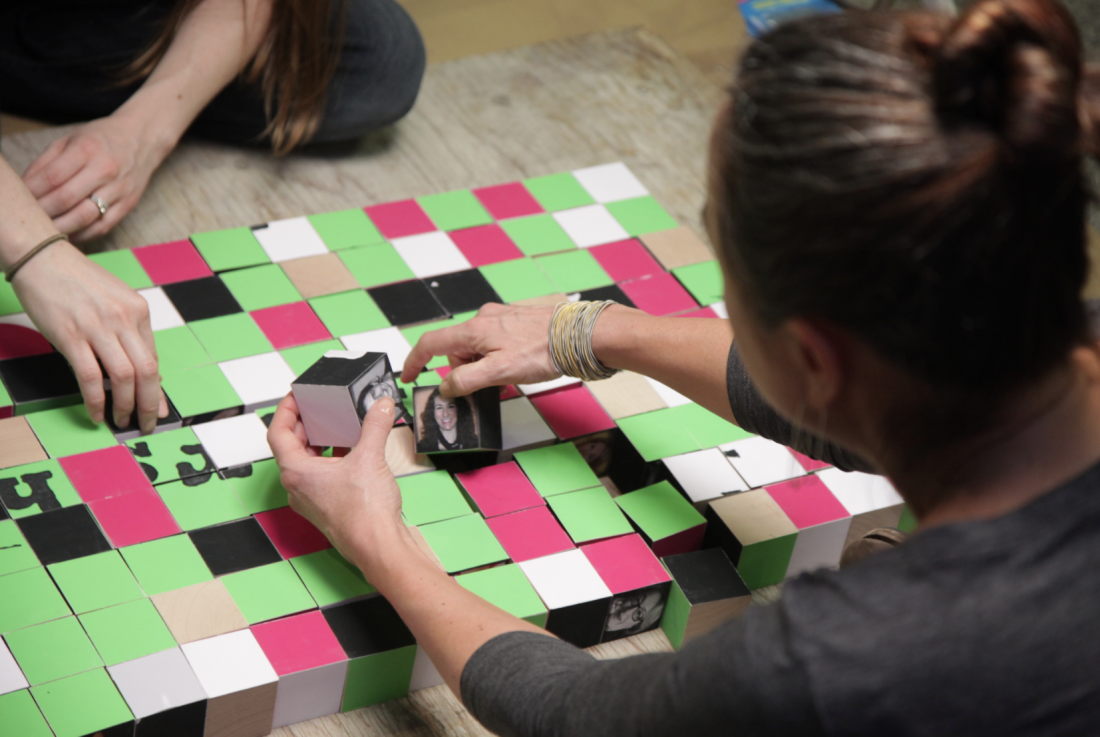 Q Gets Crafty for PIA
A post from guest blogger Amber Sziklasi – a freelance editor who has been working with us since 2011.
Most of my Q mates know me as a floor director and an editor but underneath it all – I'm a closet crafter. ( I don't admit this very often!)  I suppose it's because I feel as though hands-on work isn't as high up the "creativity" food chain as the digitally driven crafts. After all, how can a world of fabric, paint & glue compare to the world of After Effects world where elephants can fly?  (Although, try telling that to any die-hard Muppets fans!)
Years ago, I mentioned to Graeme about my love for crafting and he apparently didn't forget.  When a project came up that could involve a lot of hands-on, crafty prep-work, he mentioned to Dorothy that I would be a good fit!  I never thought I'd ever be able to combine these two creative passions in one job –  I was very excited about the opportunity!
The idea was to make a 90 second film to celebrate Partners in Art a charitable organization that raises money for the Canadian contemporary art scene. They had been given the prestigious MOCCA award and there was going to be a big event at the AGO to celebrate their 10-year contribution to the Canadian art scene.
We wanted it to be a fun and playful celebration and since we were doing the gig PRO-BONO it meant we had the freedom to experiment and try new things.
I started the project by scribbling Dorothy's ideas on a piece of paper:
– Stop Motion
– Wooden Blocks
– Pictures of the Members and their artist partners
– Key words for the organization–Education, Collaboration & Partnership
We cycled through a few design ideas and we ended up with 5 large images. We had them cut in 720 2" x 2" squares.  Then they each needed to be glued onto the individual blocks – and glue I did!  

5 days later and the five sides of the 144 blocks were ready for their close ups.  Leah Rifkin (my trusty side-kick) & I set to work on a stop motion test (a first for both of us). After a couple false starts, we got the ball rolling.  And we discovered something unexpected – the blocks had personalities!  There were "Eager Beavers" and "Pushy Pauls," some were lost and confused and we both developed a favourite blockhead who we dubbed "the Late-comer".
Happy with our progress, I started again the following morning with Josh Kaplan (side-kick #2) and we choreographed ideas for the whole video.  A day and a half and thousands of precise movements later (and quite proud of ourselves, I might add!) we had finished the in-camera stop motion film.
Then I set to work on the finishing touches.
Dorothy took one look and knew it needed a soundtrack reminiscent of Spike Jones.  After finding the music, plus a session of crazy foley from everyone around the office and a drop of colour correction – voila!  A stop-motion animation we could all be proud of was finished!  Watch it HERE!
Thanks Josh, Leah and Partners in Art for giving me the chance to come out of my crafty closet!