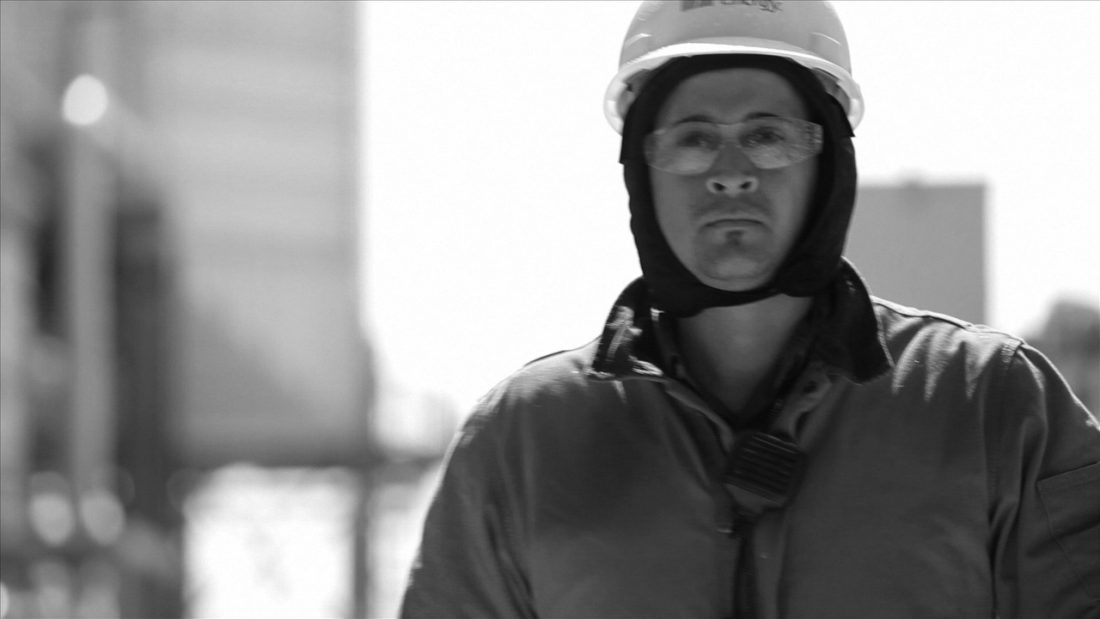 Shooting Summer for Winter
Imagine shooting on the scorching asphalt of a gas plant in southern Texas in 130 degree heat—dragging around coolers of ice, spray bottles, tarps, hard hats and winter snowsuits.  WHY you ask? To make a sunny August day in Texas look like the worst winter weather storm in over 30 years. Yes, I'd shot day for night but never summer for winter.
The Challenge
In June of last year our Direct Energy Upstream client Justine Williams called and asked us to tell the heroic story of how a tight team across many lines of business averted disaster during one of the worst extreme winter weather events in Texas history.
Three DE electricity generating plants in Texas were hit hard by the storm. Critical data transmitters froze causing the plants to shut-down. Direct Energy wanted to recognize the teamwork and dedication the plant employees and the support teams in Houston demonstrated in getting the plants back online. The problem for us? They requested the video in July and needed it to be ready to screen in September.
Extreme Close-Ups, Backlight and Sound FX
So how do you shoot winter scenes in Texas during the summer? We got a bunch of our team from the office to sit down and brainstorm the challenge.  First, lots of extreme closeups—that way you wouldn't be able to identify time of year.  Second, we decided to shoot directly into light sources – to blow out the background and give us the opportunity to add snow in post.  And then two other ideas that gave the whole piece veracity—live footage from TV stations across Texas.  
We found some reports on YouTube and asked a couple of TV stations in Dallas and Austin for their footage and voila we had the documentary part of what we needed plus we didn't need voiceover because the anchors told the story of the storm and its severity for us.
But we also wanted some poetic shots of the storm to add to the mood so we scoured Vimeo for any potential footage. You can always count on filmmakers grabbing their cameras when unusual events occur.
That took care of setting the scene but how do you re-enact the wintery drama the ice-covered plants faced when you're shooting in 130 degrees of Texas heat?  The answer – coolers of crushed ice and very patient plant workers.
Dedicated Staffers
Walking outside from the air-conditioned control room was like stepping into a furnace. No one knew that more than Felix Sanchez. During the storm it was Felix's job to climb the icy steps to the top of the tower and try to thaw the data transmitter. Needing to recreate this for our video Felix put on his winter coveralls, gloves and hat then climbed the tower. Again and again. Felix never complained, just said "sure, no problem" and kept climbing. After an hour outside he peeled his outerwear an he was soaking from head to toe.  That's the kind of attitude everyone at the plants and back in Houston exudes. It was easy to see how they all came together to overcome the storm and get the plants back online. They didn't want to let their co-workers down and they didn't want to fail the communities who rely on the plant.
Post Effects and AUDIO
So with a lot of ingenuity, some crushed ice, layers of sound effects and after effects generated falling snow we managed to solve the problem of turning 130 degrees into –a -17 degree winter.
The result is a compelling story about a group of individuals who came together to overcome extreme circumstances. And when they showed it everyone thought we shot it in the middle of winter.  Except for Felix!