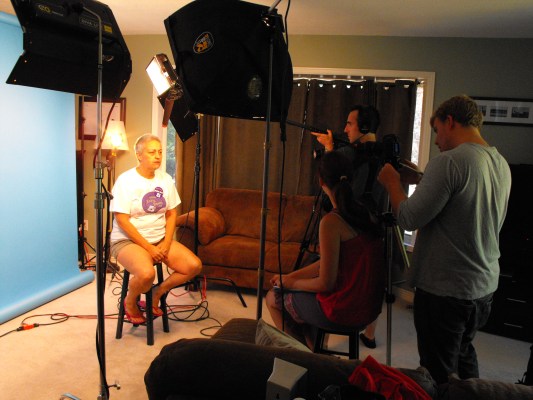 Getinvolved! Launches its Fourth Season
January 30, 2013
There's no better way to make yourself feel like a complete underachiever than meeting a 13 year-old kid who has already started six environmental clubs in his school and created a community program to get his fellow neighbors involved in recycling. While interviewing young environmentalist Harnoor Gill, I couldn't stop thinking about what I was doing in Grade 7 – weekends spent on the couch, watching Power Rangers and playing POGS (yes, I grew up in the 90s).
And Harnoor was just one of the twenty amazing people I met this summer while we traveled around Ontario for our fourth season of Getinvolved! in search of volunteers who are changing the world.
While doing research prior to our shoots, I kept thinking I would feel inadequate talking to folks like Lynda Fraser who started a non-profit call KatieBears, named after her daughter who passed away a few years ago, or Catherine Colquhoun who has spent over 50 years volunteering with the Thunder Bay Symphony Orchestra, doing everything from housing the musicians to fundraising thousands by selling her homemade jams.
But it quickly became clear that these volunteers are just like you and me. Most of this season's profilees are new Canadians who wanted to get involved in their community, or young people looking to get build experience for their careers, or even using volunteerism as a way to heal.
This summer was an incredible experience for me – not only going did I get to go on the road with a crew for the first time – but I also had the opportunity to meet so many people who not only changed their world but changed their own lives through volunteerism. Each of these profilees taught me to take more risks in my own life, something I am still trying to remind myself to do six months later. They stepped out of their everyday norm, said yes to attend organization meetings and events, or even learned an entirely new skill. They embraced the change that volunteerism started. And really, without taking risks, how can we ever hope to better ourselves?
Hopefully viewers will find this season just as inspirational as I do, not just for folks looking to get involved in volunteerism but for anyone feeling stuck in a rut, trying to find work or trying to find a place in their community.
Check out the first few episodes of this season HERE and let me know what you think! Or even better, let me know if you can think of anyone that would be great for season 5!