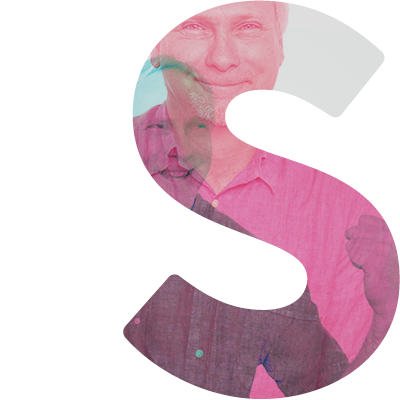 Meet the Q Family: Steve
Meet Steve.
Masterful editor. Tech guru. All-around-nice-guy.
Favourite expression: D'oh!
Favourite children's book: Love You Forever – Robert Munsch
Website you visit the most: Mentalfloss
A free day is spent: Relaxing with my family
Biggest pet peeve: Drivers who don't keep up with the car in front of them when traffic is crawling on the DVP
Favourite story to tell: When I worked at Enbridge and I used to hire Richard to work for ME!
Dream project: Following a baseball team through spring training.
A dinner party with anybody, dead or alive – who's at the table?
Springsteen is someone I would like to meet. Because he's so idolozed, but he's so down to earth and normal. Buddy Holly, he was always being innovative and trying new ways to record and get different sounds.  And my wife Kim – because there's no one else I'd rather spend time with.
Something quirky about yourself? 
I have issues with germs. I wash a dish before I use it in the [Q] kitchen. I always give it a rinse before I use it.
What did you want to grow up to be?
A pilot. I would just love to fly. Always loved it.
Why aren't you doing that now? 
I started to, I didn't do very well in math.
If you could live the life of character from a movie, who would it be? Why? 
Ricky Bobby. Because I love racing and his confidence.
What's your "Q" connection?
I ended up working here because when I was at Enbridge, I used to hire Richard to direct and write for me. And then they got busy, so I got outsourced to Xerox. I started freelancing in their basement suite, when they still worked at the house. And then Dorothy became part of q, so I left Xerox and came full time on a 6 month contract….I met Richard through Jeff Rockburn, one of our writers.
What do you like most about working at q?
The variety. The chance to do something different. I like to get out in the field and sometimes hide in the office. I just like to do a little bit of everything.
Most memorable Q project:
Traveling across the U.S. for Direct Energy. Shooting in the heat and beauty of the Nevada Desert one day and then under the lights and glitz of the Las Vegas strip the next day.
What makes you happy? 
Coming home at end of the day to hugs from my kids.
Visit Meet the Q Family to get to know other members of the team.