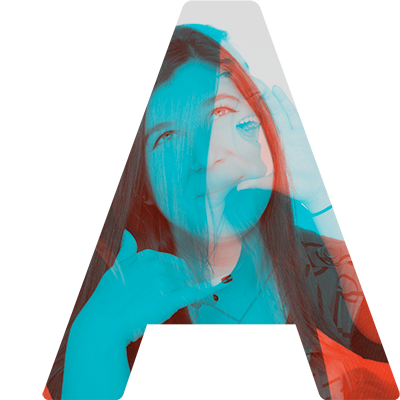 Meet the Q Family: Andrea
Meet Andrea.
Production coordinator queen. Ultimate planner. Dog GIF hunter.
Favourite expression:  Yaaaasss Queen
Favourite children's book: The Paper Bag Princess
Website you visit the most:  Youtube – I'm either watching news clips, comedy sketches, falling down a rabbit hole of twisted true crime mini-docs, or trying to find new music.
A free day is spent: Exploring local breweries, pubs, bakeries, and live music scenes. Always on the hunt for some new, cool thing.
Biggest pet peeve:  People cracking their joints loudly—the sound is terrible.
Dream project: Something that contributes to saving our oceans. I'm very passionate about whales and penguins, so a project that features either would be the ideal project for me.
Favourite story to tell: That time I nearly dropped my rental car keys down the Grand Canyon (did I mention we had zero cell reception?)
A dinner party with any three people, dead or alive – who's at the table? Sylvia Plath, Amy Poehler, Christine Baranski
Something quirky about yourself? I'm an exceptionally gifted klutz.
What did you want to grow up to be? A singer.

Why aren't you doing any of those things now? After joining choir in elementary school, I was told I was tone deaf. That doesn't stop me from belting a tune around my apartment today… much to my roommate's probable dismay.
If you could be a character in a movie – who would it be? If the question is I am acting/playing a character in a movie, then probably someone in a horror movie (like Sam in Green Room) because I imagine playing someone tough and cool like her would be fun.
What's your "Q" connection? Frequent Q freelancer, Dakota, is a dear friend from university, and the person who saved my life during the Grand Canyon incident (seriously, ask me about it.)
What do you like most about working at Q? The people!! Their support, jokes, creativity, and warm reception to my dog gifs in office e-mails, all prove to me that I'm working in the right kind of place.
Most memorable Q project: The YMCA Fellowship of Honour videos. The project kicked off during an already busy time in my first few weeks at Q. It was something like 14 shoot days, coordinating 60+ interviews, in 3 provinces; and delivering 12 videos within 6 weeks. I thank my giant wall of stickies and the support of the Q team for getting us through that haul. I learned A LOT in those weeks—I think the phrase I'm looking for is "baptism by fire".
What makes you happy? Thunderstorms. I absolutely love them.
Wanna meet the rest of the wacky Q crew? Check out the full "Meet the Q Family" series here.